Join the 100,000+ readers who've already downloaded The Distant Shore.
Grab your FREE copy today!*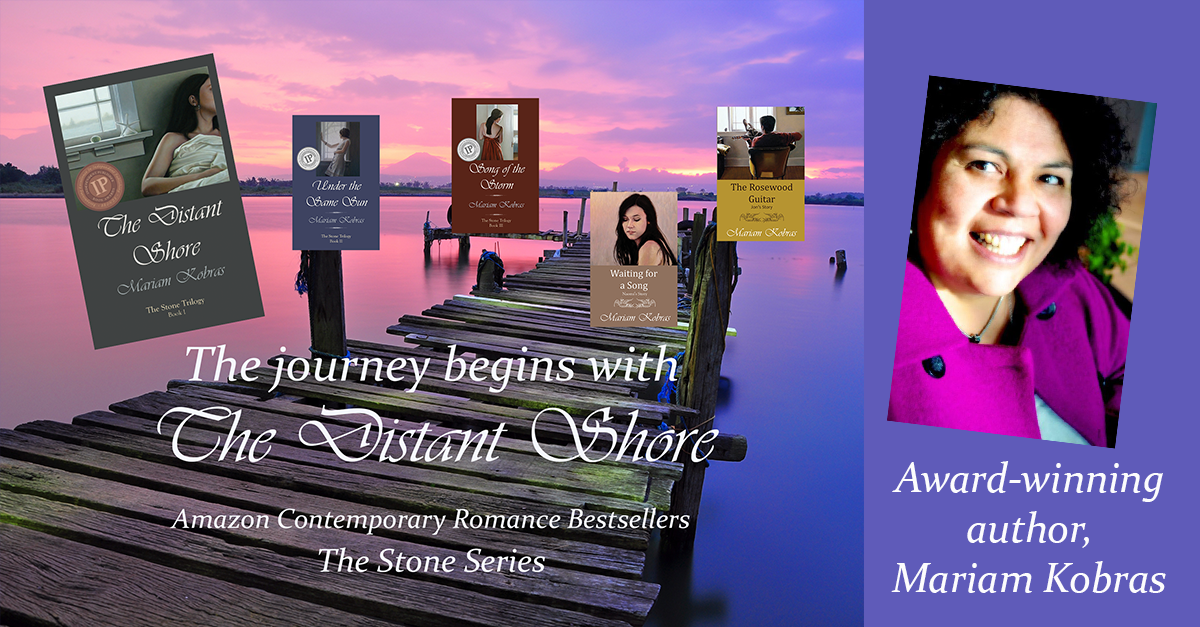 *Free for a limited time only
Here's just a sample of what those readers had to say:
"A delicious book, one that demands tea or chocolate and hours to savor the words and thoughts of her characters…the story tumbles out beautifully, structured with a sense of inevitability—and yet I still found myself surprised." Johanna Harness, author of Spillworthy
"Kobras delivers a story of love that transcends time and crosses continents. Poignant and beautiful… Fans will appreciate her fresh voice." Donna Carrick, author of IPPY Award-winner, The First Excellence
"a rich, layered, romantic story with realistic tension, thoughtful characters, and real depth of narrative and plot… A refreshing and unexpected story, and would recommend it both to fans of romance and relationship-centric novels as well as anyone looking for an interesting change of pace." FIVE STARS Susan Spann, author of the Shinobi Mysteries
"A real gift for description; some of the passages read like poetry. Jon, Naomi, and the deep bond that ties them together are now a permanent part of my literary vocabulary—so glad I found these books!"  FIVE STARS Valerie Storey
"The characters are fantastic, the story is fantastic, and I had a hard time putting it down." FIVE STARS Sarah Clementson
"I've read many stories about love between a man and a woman but none have approached the power of this novel. Many, many passages read like love songs within themselves... Encore!" FIVE STARS books thru bifocals
"Wrapped itself around my heart and held me there, enchanted by the tale, every word a part of me, devouring time and place until I had breathed in every feeling, living it as close as my skin and wanting more." FIVE STARS Mountain girl
"If you are at all familiar with (and love) the emotional prose of Diana Gabaldon's historical romance series (Outlander), then you must, must, must read Mariam Kobras' Stone Trilogy. Although a contemporary romance, it is just as evocative!" FIVE STARS Joanna Waugh
"Has all of the ingredients of a heart-touching romance, interspersed with mystery and intrigue. Best of all, since this is the first book in a trilogy, the unresolved ending is a promise of more romance and intrigue to come."  FIVE STARS Daria Anne DiGiovanni
"Takes readers on a roller coaster ride of emotions as they explore the timeless love story of a famous musician and the girl who captured his heart nearly two decades ago." FIVE STARS Stacie Theis
"A story of love lost and found but held in a very tenuous embrace. [It] will keep you on the edge of your seat." FIVE STARS Marcia Kuiper
"Reads like a fairy tale, a love poem and a musical all in one. The cadence of Jon's word pictures painted for Naomi made my heart dance to imagine that this kind of love may exist, if even for a moment in my imagination." FIVE STARS Queen bee
"A gorgeous book; from the strangely tactile, softly coloured cover right through to the unresolved ending, Kobras plays on all the senses to weave a tale of love that is bigger than either of the main characters. Her style is reminiscent of Anita Shreve, and if you liked Body Surfing, then you will love this." FIVE STARS Ms J. Travers
Savor the first book in the Stone series, then sink into the series as award-winning author, Mariam Kobras continues the story.
Subscribers to Mariam's newsletter will receive additional free exclusive stories as she picks up where the Stone Trilogy ended, so sign up today!